Total price shown includes VAT and is available online only. All online orders are sent direct from our suppliers to offer the best possible price to our customers. Normal delivery takes up to 48 hours (excluding weekends), however other express delivery options are available before purchase.
Part information
Part number: FD475
Core size: 380 mm x 349 mm
OEM/Part Number(s): 1218735 / 1221061 / 1S5H8005CA / 1S5H8K161AA / 1222478 / 1361842 / 1S5H8005CB / 1S5H8005AA / 3S5A8005CB / 3S5A8005AA
Source: Aftermarket
Comments: Hose fittings diagonally opposite. The 2002 on KA radiators no longer come with 8mm pipe top driver side they are bled from top hose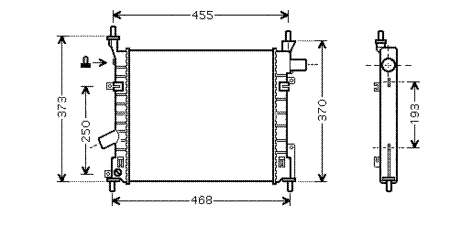 Important: Whilst we have done our best to ensure our model and engine data is accurate, please ensure you check the diagram and core sizes provided before placing an order. All diagrams show the view of the part from the engine.
In some cases the manufacturers now supply one radiator to suit both the manual and automatic versions of the vehicle. If your vehicle is manual then it may be that the new radiator comes with 2 extra brass ports/pipes that are not on your old radiator. Please ignore these ports, they do not need removed or touched in anyway, they are blanked internally and only come into use when an automatic vehicles oil cooler pipes are connected to them.
Please note OEM manufacturers brand, applications and part numbers quoted on this website are for reference only.